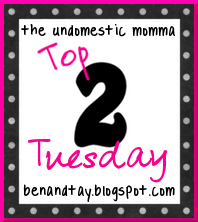 I'm participating in Top Two Tuesday again over at
The Undomestic Momma
. You guys probably remember the last time I played along- when the topic was
Top Two Baby Names
? Well, today's subject is Top Two Magazines. You know you are curious.
My favorite magazine is Cosmo. I love it so, so much.
When we were teenagers, my sister Amber had a subscription of Cosmo Girl, and we faithfully poured over those pages every month. The embarrassing stories were my absolute favorite part.
But when I say Cosmo, I actually mean the grown-up version. It's a whole lot more, um,
adult
than the version I read in highschool. And by "adult" I mean "awesome".
Back at BYU, I would buy copies at the grocery store and feel like I was getting away with something naughty. And then I'd stash it right next to that month's Ensign.
Kidding! That was just for shock value. Man, the look on your face...
But my roommate Kendra loved that magazine (Cosmo) at least as much as I did, and I was glad she didn't look down on my for this vice. She looked down on me for other things, like my love of trashy romance novels, my penchant for sleeping through church, and my habit of eating her food. But when it came to Cosmo, we were on even ground.
(Look closely at this cover. No, not the sex part. And not that other sex part, either. Over there, on the left, towards the bottom...
Her boyfriend didn't change his boxers for 3 months!
I
have
to know more!)
So... yeah. Cosmo. Good magazine. If you're looking for a late birthday present for me,
you just found it
.
For my second magazine, can I just choose a whole category? Or is that cheating?
Well, I'm doing it anyway. Home Decorating magazines. Sometimes I grab a few off the shelf and find a corner in the bookstore. This is especially fun if the bookstore has a coffee shop, and you grab something yummy, like an Italian Soda and a piece of coffee cake. Mmmmm.
Country Living, House Beautiful. Even Martha Stewart Living gets read on a semi-regular basis. But I never buy them.
I just like looking at the pretty pictures, and dreaming of my future home.
So there you go. What are your two favorite magazines? And do you have any you'd recommend?