Hey guys! Guess what?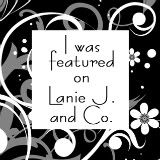 Lanie interviewed me! I've never been interviewed for a blog before. It was really fun.
Click
here
to read it.
You're probably wondering if you can interview me for your blog now. The answer is YES.
Maybe I should put a new header on my blog:
Will do interviews for free. (Bribes welcome)
I love Lanie J. For a few reasons. First, we have the same same. So basically we are the same person.
Second, she is very supportive. She always has nice things to say.
And Third, she is super creative! So after you head over there and read my interview, take a few minutes to look around. You'll like what you see.
And in other news, I tweeted over ten times yesterday.
Stop pretending. You know you're impressed.
.