I know, 2 posts in one day. But the last one was little, and I really want to participate in this. Don't judge me.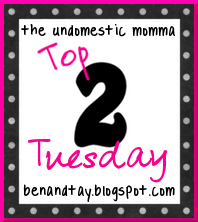 Taylor over at
The Undomestic Momma
is doing favorite baby names for her Top Two Tuesday. PERFECT TIMING. I just barely figured this out.*
It's like she read my mind. Or has spy cameras in my house. Either way, I'm flattered.
My Top 2 Favorite Names are:
Girl:
Piper.
But Kurt hates it. This was my
second
favorite until he announced that he would rather
die
than name his child Piper. At that moment, it became my
very favorite name
, and I would rather die than give it up.
Boy:
Ammon. Which he is ok with.
And Kurt's top 2 are:
Girl:
Harper. I like it. But not as much as Piper.
Boy:
Hunter. I'm not sure about it yet.
(If you were just curious about the names, you should probably stop here)
*I couldn't sleep the other night. So to pass the time, I grabbed a pen and a scrap of paper, and started writing down all my favorite baby names. It took me a few hours (Yes, hours), because I needed to try all kinds of first and middle name combinations. And boy/girl combinations. I mean, what if I have twins? Rhyming names are so overrated (unless your baby names rhyme. those are probably adorable).
No, I'm not pregnant. Just obsessive.
Names are a big deal in our family. When I was 10 years old, I announced that I was gonna name my son Parker. It's a family name.
A few years later, Amber got mad because
she
wanted to use that name, and she had always been planning on it, and it just wasn't fair.
That's when I remembered that I had
really
decided on it when I was 3- no,
still in the womb
.
Turns out she remembers wanting it
before she was even conceived.
You guys, this fight
still
hasn't ended.
Then Jimmy (my brother) married Annie. Who is gonna name her son James Parker Kaiser the 5th. Or 6th. Or maybe 3rd. And then instead of calling him Jimmy, like his daddy, she is gonna use his middle name. Parker.
I hate her.
So yeah, names are a big deal. To avoid any more hostility, my sister decided to get organized. We each have a baby name list which we update yearly.
And if someone has already called a name, you can't have it on your list. Unless it's far down on your list. And then you need permission.
I know.
So there I was, updating my list, erasing ones I'd gotten over, adding new ones. ALL NIGHT.
In church the next day, I earnestly whispered to Kurt "So, I have 8 girl names and 8 boy names that I love. Looks like we are having 16 kids."
He rolled his eyes. Which is code for "I completely agree."